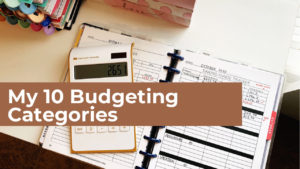 Why should you have budgeting categories?
If you want your budget to be effective, it needs to be broken down and organized into ways that you can understand.
Putting your expenses into categories or groups will help you make better financial decisions.  I wanted to share with you the 10 budgeting categories that we use in our personal budget to help us get a clear picture of our spending patterns and make better financial decisions.
Our 10 Budgeting Categories:
Donations – This category is not a category for everyone but we have several areas that we give to others. Under this section of our budget we have our donations to our church, charities, and donations we give to other people.
Savings & Investments – Saving for unexpected expenses, events, Roth IRA, Traditional IRA, Educational Accounts, & Business Investments
Home – All the items related to our home, this includes our mortgage, home repairs, projects, gardening expenses…etc.
Transportation – All items related to our cars, this includes our car note, car insurance, gas, parking tolls, public transit, and car maintenance
Utilities – Energy bill, phone, water bill, internet
Food – Groceries, restaurants, fast food
Health – Medical Insurance, Dental Insurance, Life Insurance
Debt – Credit cards taxes, student loans
Personal – Beauty, Spa, Gym memberships, shopping, kids items, personal allowance
Entertainment – Movies, family night, date night, fun money, subscriptions
If you want to see the video where I break down each category and how I use them, click here.
Alaina